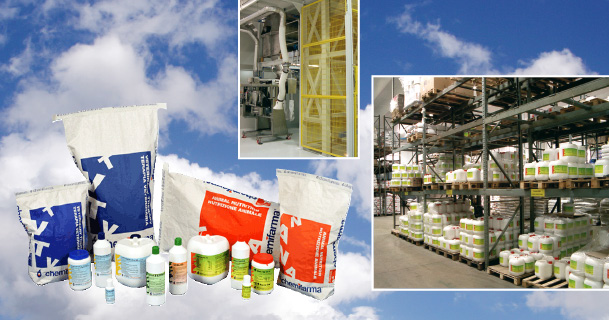 The key areas on which Chemifarma
has focused its operations are three:









Medicinal Products for Veterinary Therapy: production of veterinary drugs in oral form, to control, prevent and treat the diseases affecting both livestock and pet animals. Most of livestock products are generics.
Animal Nutrition Products: production of vitamin-based supplements with specific nutritional purposes, premixes for the feed industry, in both liquid and powder form.
Sanitisation Products: disinfectants and biocides needed to keep the livestock environment clean and hygienically safe, for the wellbeing of the animals.
Over the years Chemifarma researchers, have developped liquid veterinary drugs and nutritional supplements that particularly suit the needs of modern intensive rearing, thus contributing to its wide spread success among the vets.
Features of Chemifarma's products:
Safety: regular checks on the production process, conformity of the technical equipment and distribution process.
Quality: accurate monitoring of all production phases: assessment and selection of certified raw material suppliers who guarantee the highest purity standards of their products; steady renewal of quality control instruments for raw material and finished product testing.
Efficacy: the continuous feedback with the clients allowed Chemifarma to improve product efficacy, besides providing important suggestions to its researches and technicians to devise new therapeutic, nutritional and environmental bio-safety solutions.